Empathy Awry
Photo:
The case became a flashpoint for debates on the role of the state and the rights of children.

(GoFundMe: Charlies Fight)
"Charlie did have a real chance of getting better. ... Now we will never know what would have happened if he got treatment."




"Mummy and Daddy love you so much Charlie, we always have and we always will and we are so sorry that we couldn't save you."




"We had the chance but we weren't allowed to give you that chance."




"Sweet dreams baby. Sleep tight, our beautiful little boy."




"Our beautiful little boy has gone, we are so proud of you Charlie."




Connie Yates, Chris Gard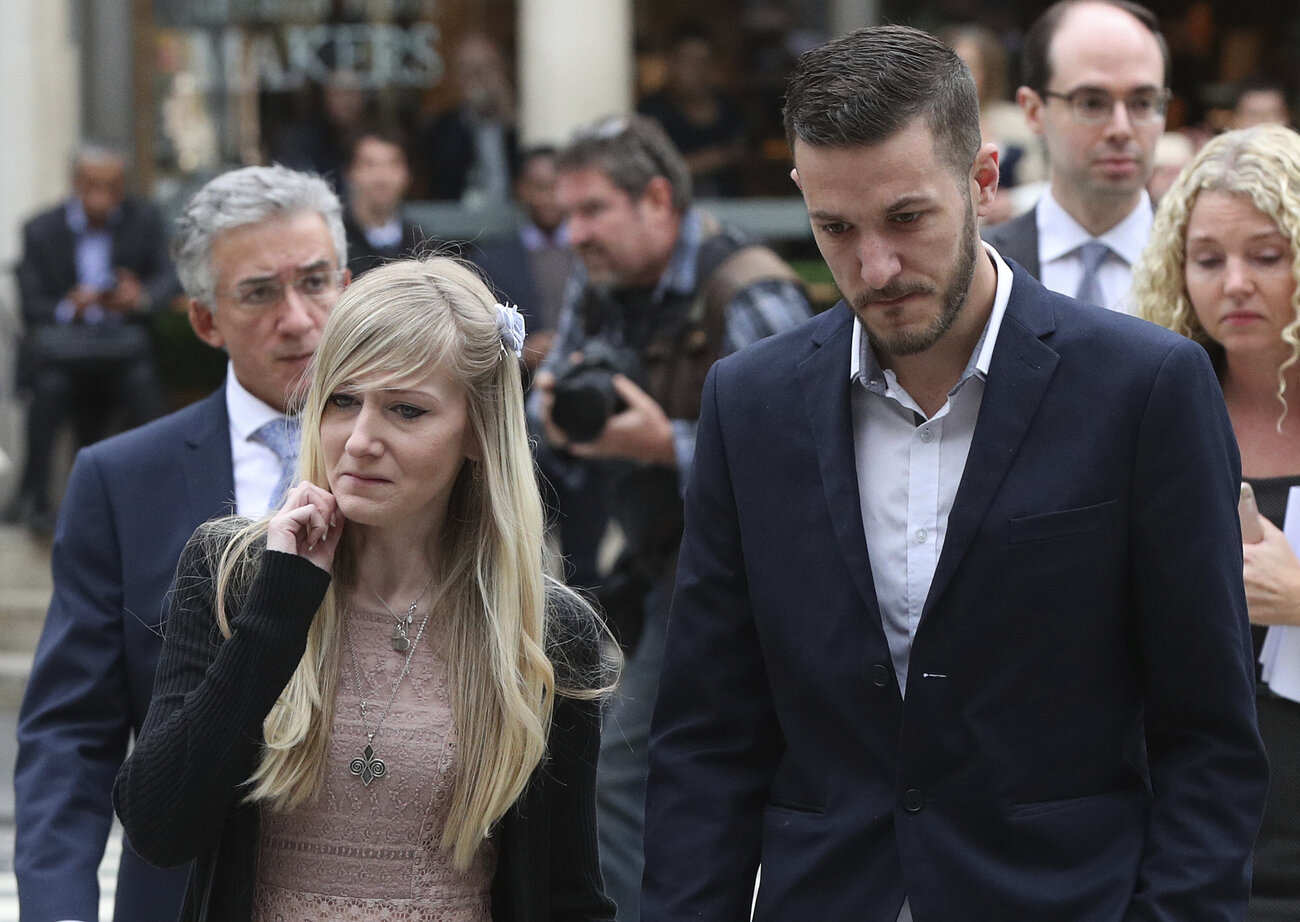 A first child, a lovely little boy, discovered at two months of age to be afflicted with a serious illness. His parents, British citizens, had been referred with him to the Great Ormond Street Hospital. This is no ordinary hospital, it is an institution known globally for its advanced paediatric care and always has been, for the two centuries of its existence. The tiny boy was instantly admitted, where paediatric specialists hastened to apply the most proven of modern paediatric practices to save his life.
No single doctor, but a medical team of experts assigned themselves to do what they could for this infant. He was placed on a ventilator to breathe for him and unlike most situations of this type tiny Charlie demonstrated
"no spontaneous respiratory efforts"
; in other words where the respirator breathing on his behalf would influence other babies in similar distress to respond by making an autonomic effort to help themselves breathe, he could not.
The baby was submitted to a round of tests to determine the full depth and extent of his malady. That included advanced genetic testing, the result of which was a diagnosis of a very rare mitochondrial DNA depletion syndrome which meant that Charlie would die of a certainty in the near future, and his deteriorating condition lent credence to that expectation based on test results. Soon not only could he not breathe on his own he was unable to open his eyelids as well, due to muscular weakness.
He experienced hearing loss and became unresponsive to any type of stimuli that would normally elicit a response. Charlie's parents were continually apprised of his situation, the results of the tests and his deteriorating condition. He began to experience intractable seizures so that ventilation long-term presented as inhumane for the pain he would be suffering. He could be kept alive through ventilation-enabled breathing, but his pain would only intensify.
The hospital's ethics committee was in agreement that Charlie be given palliative care.
His parents, for reasons best known to themselves spurned all the readings of test results heralding his imminent death. The advice given them with their baby's best interests topmost in mind was rejected by them. They believed, they stated emphatically, that their infant son would rally, he would somehow manage to overcome his body breakdown and become healthy and they would take him home and raise him as they planned to. Because he was a 'fighter'.
This pathological transfixion in the faith of their own reasoning in polarized contrast to all the test results, the diagnoses, their child's steady decline, and the professional advice of the entire hospital staff led Chris Gard and Connie Yates to publicize their conflict with the hospital, charging them with defying the baby's best interests and denying their request that he be treated elsewhere. Their constant public appearances and their pleas succeeded in extracting wide news coverage and compassion at home and abroad.
Their coercive manipulation of peoples' sympathies with their heartfelt pleas to save their son, and appeals through a GoFundMe online campaign to raise funds to enable the parents to pay for their then-11-month-old infant to be flown to the United States to undergo treatment there, succeeded in raising over 1.3 million pounds ($2.14 million). The medical staff looking after the child objected, reasoning there was no treatment that could help save his life; rather it would increase his suffering.
The parents' intransigent objections that they knew their baby could recover with expert care given him elsewhere than at Great Ormond Street Hospital, but that the hospital and the doctors there were foiling the parents' efforts to save their child, exposed both the hospital and the medical team to hostile abuse by a public indignant over the purported treatment of the parents by the hospital they accused, in essence, of doing nothing to prevent Charlie's death.
By appealing to peoples' raw emotions through the spectacle of a grieving, outraged father and mother of a helpless and desperately ill child, this couple portrayed themselves as courageous fighters for justice to be enabled to save their baby. They were prepared to take on medical science and defeat reality through the force of their faith in what they believed. In the process they became celebrity figures, respected and supported in their battle with reality by a pope and an American president.
No one but they, and perhaps not even they, will ever know the agenda that drove them to unreasoning blame and vituperation; of, in the final analysis, causing their baby to suffer beyond endurance because they insisted on proving they were right and were prepared to fight a battle that could never be won. They attained a supportive audience, and they played for it.
Head stuff to people who became addicted to fame born out of human compassion, where they gained recognition for their suffering and their baby continued to suffer because of their addiction.
Labels: Child Welfare, Health, Life's Like That