Forewarned
"Alcohol is such a big part of our culture in Canada. We're inundated with alcohol marketing that shows us how much fun alcohol is. It's part of most of our celebrations."




"...[But] consumers have a right to know the health risks if they do choose to drink alcohol. If they do choose to drink, they can do so in a safer manner."




Erin Hobin, researcher, Public Health Ontario





"Simply presenting all the negatives all the time, and not the positive, is I'm not sure [sic] terribly helpful."




"You have to have both messages there, because otherwise it comes off as a kind of scare message. You mention the word cancer, and people freak out. And rightfully so."




Jann Westcott, president, Spirits Canada
"Alcohol continues to be a significant factor for violent crime in the Yukon."




"New data from Statistics Canada show that while crime severity in the territory has remained stable from 2015 to 2016, violent crime severity has mounted."




"Dan Cable, a spokesperson for the Yukon Department of Justice, noted in an interview with the Star that 90 per cent of all violent crime lists alcohol as a factor."




"'We have an alcohol problem in the territory,' he said. 'Yukon has one of the highest uses of alcohol, and alcohol is a factor in criminal behaviour'."




"The information comes from Statistics Canada's annual report on police-reported crime."




"It shows that the Yukon's crime severity index (CSI) dropped by less than one per cent between 2015 and 2016 – while the violent CSI rose by more than eight per cent."




"The crime rate fell by five percentage points, with 9,118 actual incidents in the territory last year."




"The crime severity index includes all Criminal Code of Canada violations. It tracks changes in crime severity by reflecting the seriousness of individual offences, while the violent CSI focuses on violent violations."




"Other reports show that the Yukon has almost three times the national rate of hospitalizations caused entirely by alcohol. That excludes emergency room visits and accidents resulting from impaired driving."




"As well, the territory had the highest rate of alcohol sales per capita in 2014, and the second-highest percentage of self-reported heavy drinking."




"Last year, there were 366 impaired driving charges in the Yukon and 169 drug violations."




"Yukon RCMP also reported 1,555 violent Criminal Code violations in the territory last year, with assaults accounting for the majority, at 1,019."


Whitehorse Daily Star, Whitehorse, Yukon
Canadians generally make the assumption that drinking in moderation is harmless to their health. That assumption rests on the messages that have reached the public through research findings where small amounts of alcohol are seen to be useful in reducing the incidence of heart-health risk. That assurance of moderation and presumed health safety served to convince the public that drinking in moderation is a positive, heart-healthy activity.
Earlier this month though, came the latest medical news from the American Society of Clinical Oncology warning of alcohol consumption dangers, linking alcohol directly with over one in twenty cancers worldwide. Now that's something to think about. And according to researcher Erin Hobin, evidence often cited of health benefits linked to alcohol happens to be
"very conflicting"
, and this appears to be the position of the U.S. Centers for Disease Control, along with other like groups.
A survey conducted over the Internet of over two thousand residents of Ontario revealed that most respondents supported the placing of alcohol information labels on liquor bottles. The labels, explaining the size of standard drinks and safe-practise drinking levels appeared to have the support of most people in the general public.
Two diffferent warning labels will be added to alcohol containers in Yukon in the coming months, as part of an ongoing Health Canada study. One label warns of the cancer risk associated with drinking, while the other encourages healthy drinking habits.
(Government of Yukon)
Labels that warn
"alcohol can cause cancer ... including breast and colon cancers"
. Another that with the use of graphic images recommends that women have no more than two standard drinks daily; men three drinks. Both should set aside two or more non-drinking days weekly to
"reduce health risks"
. While a third label will explain that five ounces of wine, 12 ounces of beer, or 1.5 ounces of spirits represent a standard drink.
Dr. Hobin and a team of researchers put together those labels, and set about at the urging of authorities in the Yukon through the Yukon Liquor Corporation, to hand-affix stickers to thousands of bottles in Whitehorse, as a Canadian first in a type of warning exercise for consumers who may not know how vulnerable they can be when drinking to excess.
Bottles of liquor, wine and allied alcohol in the stores operating in the territory now include these large stickers advising that drinking alcohol has the potential of causing breast and colon caner, offering information on "safe" consumption levels. Two studies launched by Ms. Hobin and colleagues at the University of Victoria led to this initiative whose effect on the public will undergo analysis over the next eight months.
This effort is in lock-step with health groups all over the world attempting to make people aware of alcohol's carcinogenic potential. Korea is unique in having a similar program, though it's labels fail to mention cancers in particular. In the United States there are warning labels on alcohol of a sort; text-only messages in small print addressing known risks of drunk driving and drinking while pregnant.
The labelling runs the risk of irritating some consumers. And the reality is also that many people become inured to the presence of label warnings, and ultimately they have little positive effect. But a study undertaken by Hobin and her colleagues through focus groups held in the Yukon concluded
"strong support"
for warnings, participants urging that larger ones including pictograms be favoured.
Erin Hobin

‏

@erinhobinPhD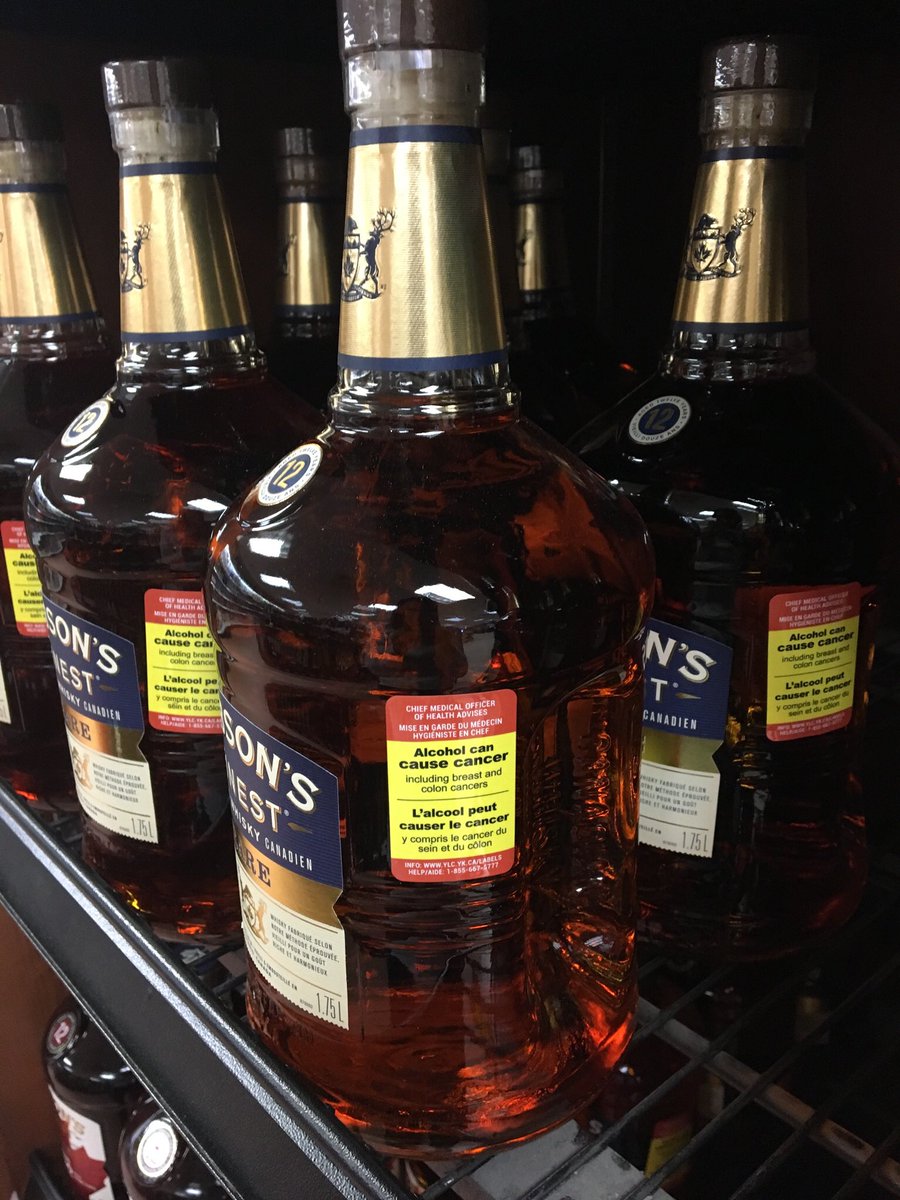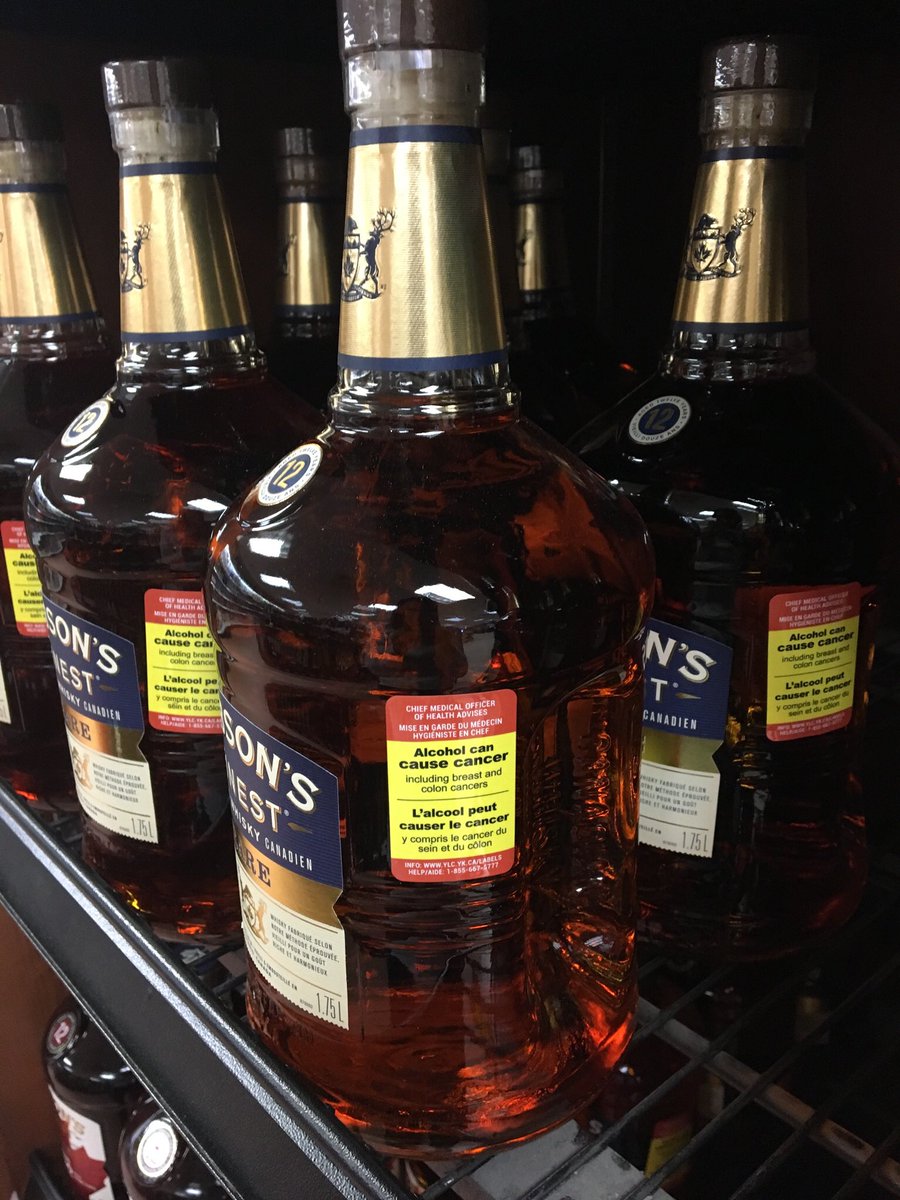 Labels: Alcohol, Cancer, Disease, Health, Marketing, Research