Growing Old Healthily and Longer
"Genes are far less important to aging well than exercise and nutrition. Genetic components play a very small part compared with lifestyle factors such as obesity, sedentary lifestyles, stress and even inequality. Some genes will give you an advantage, but you can modulate your genes and give yourself the same advantages if you exercise."




"If dead and senescent cells are not dealt with effectively, damage is not repaired, and cells become less good at doing what they should. But you can influence some of these systems and it depends when you start. That's why the cyclists in the study had exercised all their lives. Their genetic systems were kept up to speed, and boosted."




"We are close to pharmaceutical drugs that will modulate the aging process. They will not stop aging and make us young forever but they will maintain tissue in sufficient working order to decrease the chances of getting age-related diseases."




Professor Ilaria Bellentuono, Department of Oncology and Metabolism, The University of Sheffield





"Most people want to be able to continue doing what they enjoy and to be active in old age. In order to keep that independence, muscle strength is important as people lose muscle mass with age, which leads to decreased strength and problems with frailty and increased risk of falls. It's important to keep up resistance training -- be that through body resistance exercises, the gym or with resistance bands."




"The type of exercise depends on your starting point, so it could be aerobics or walking."




"There is no evidence to say you will not benefit from exercise at any point in your life ... even if you have never exercised. People are doing a lot better in their old age. Forty or fifty years ago, fewer older people were exercising intensively. Today people in their 40s, 50s and beyond do marathons and triathlons, which inspires more older people and breaks down the myths that you get 'too old' to do things like that."




Carrie Mattinson, head of therapies, The Hospital of St.John and St.Elizabeth, London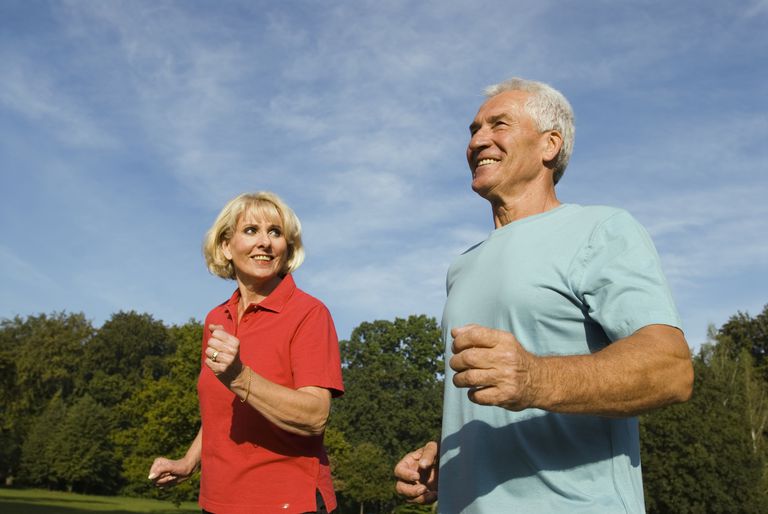 Does walking increase your longevity? Studies have found associations between walking more and living longer.
Getty Images
"I started cycling because I struggled with the impact and strength requirements of the other sports I enjoyed. I didn't get into them for health reasons, although in the past five to ten years I've realized there are health benefits."




I probably get a cold once a year and it clears up in a week."




Patrick Cangley, 71, avid bicyclist
A study published in the journal
Aging Cell
concludes that older cyclists such as Patrick Cangley, 71 -- who has gained a reputation as one of the fittest and fastest cyclists in the group he rides with -- exercising vigorously throughout their lives manage to 'cheat' the aging process through circumnavigating physical decline. That decline, points out the research published in March, is not necessarily inevitable as people grow older; merely the result of surrendering to the apathy of too little activity.
A study conducted by scientists at the University of Birmingham did a comparison between 225 enthusiastic cyclists between 55 and 79 years of age, and a group of dedicated cyclists between the ages of 20 and 36, all of whom cycled 300 km monthly; a regimen that had been an integral part of their exercise regimen for years. All of the cyclists irrespective of age were shown to have muscular strength, lung function, fitness levels and blood pressure and immune systems far superior to people younger than themselves who make no effort at regular exercise.
What is even more impressive perhaps, is that cognitive function was also affected. Recently as well, a Swedish study was released with the results of its analysis of 200 women ranging from middle age to their 90s, finding that those who qualified as being the most physically fit in the group had reduced their risk of acquiring dementia by a whopping 90 percent margin.
Patrick's wife, Jean, is 73 and like him an avid cyclist riding with her husband regularly for the very same reasons; pleasure, exercise and health boost. A member of the Bike Beans Cycle Club in Ashstead, England, Patrick had broken a collar bone when he somersaulted off his bicycle last year. A month later it was discovered that he required emergency cranial surgery as a result of a slow bleed in his skull caused by that earlier fall. He recovered within three days, amazing his surgeons.
Aging, on a cellular level, is linked to a natural process called senescence where older cells destroy themselves preventing generation of damaged copies. The older we get our immune system becomes less proficient in removing those senescent cells, which then accumulate, a buildup that triggers the immune system to respond by the generation of excessive inflammation -- in turn impairing healthy tissue regeneration and speeding the aging process.
Science does not yet fully comprehend how it is that exercise appears to reduce aging on a genetic level. Reduced cellular inflammation, a marker for aging, appears to be a key indicator linked to exercise, influencing health outcomes in reducing the impact of the aging process. The typical stereotype of the older individual surrendering the balance of their lives to languid living is no mere stereotype; it represents the reality of what most people do as they become older; slowing down their physical activities for a more sedentary lifestyle.
Students work out at UVA's Aquatics & Fitness Center. A new study shows that exercise triggers a process called mitophagy, where the muscle disposes of damaged mitochondria, making the muscle and cells healthier.
Credit: University of Virginia
Dr. Mattinson has some recommendations to help people log on to a healthier lifestyle when she urges them to look into resistance training to maintain strength, aerobic exercise for cardiovascular health and balance and flexibility. Exercise regimens linked to yoga helps to develop physical coordination. Complaining of aches and pains and choosing to do nothing is no solution to achieving a more satisfying, healthier alternative, she states definitively.
And of course there are other components of our lifestyles that should be factored in to healthy living, among them nutritional diets. A University of Glasgow study found in 2013 that about one in four people become obese as they age. A new Cancer Research campaign points at obesity as representing the second most preventable cause of cancer. Remaining reasonably lean represents a non-negotiable goal in super-aging, according to experts in the field.
"The main nutritional point for aging well is to avoid over-caloric consumption. Restriction, not starvation is the key. Too few calories impacts negatively on lifespan: 1,400 to 1,800 calories a day minimizes your chances of life loss -- as you go above that you gradually lose life from overfeeding"
, explains Dr. Martin Whyte, senior lecturer in metabolic medicine at the University of Surrey.
Eating foods high in processed sugar and saturated fats has been identified by scientists studying the link between nutrition and aging, as leading to the production of molecules called Advanced Glycation End products
(AGEs)
which stick to proteins and other molecules, reducing their functionality. They are able to play a role in the development or acceleration of the aging process. Degenerative diseases like diabetes, atherosclerosis, chronic kidney disease and Alzheimer's disease are linked to AGEs.
And this is where the classic Mediterranean diet comes in. Incorporating and focusing on fresh fish, fruit and vegetables is seen as the best model for longevity. Nutritionists point out the foods consumed by people in Okinawa, Japan, where famously many live healthy lives well into advanced old age.
"They both [the Mediterranean diet and the diet followed by Okinawans] contain a lot of oily fish and plenty of fresh fruit and vegetables, low levels of saturated fats and much less processed fat. Those are the key components. There are micro-components within that that may be released, such as omega three oils, vitamin D, zinc and vitamin E"
, stresses Dr. Whyte.
Life's Simple 7
Manage blood pressure
• When your blood pressure stays within a healthy range, you reduce the strain on your heart, arteries and kidneys.
Control cholesterol
• High cholesterol contributes to plaque build-up, which can clog your arteries and lead to heart disease and stroke.
Reduce blood sugar
• Over time, high levels of blood sugar can damage your heart, kidneys, eyes and nerves.
Get active
• Daily physical activity helps manage blood pressure, blood sugar and stress, and increases your length and quality of life.
Eat better
• When you follow a heart-healthy diet, you improve your chances for feeling good and staying healthy – for life!
Lose weight
• When you shed extra fat and unnecessary pounds, you reduce the burden on your heart, lungs, blood vessels and skeleton.
Stop smoking
• Cigarette smokers have a higher risk of developing cardiovascular disease.